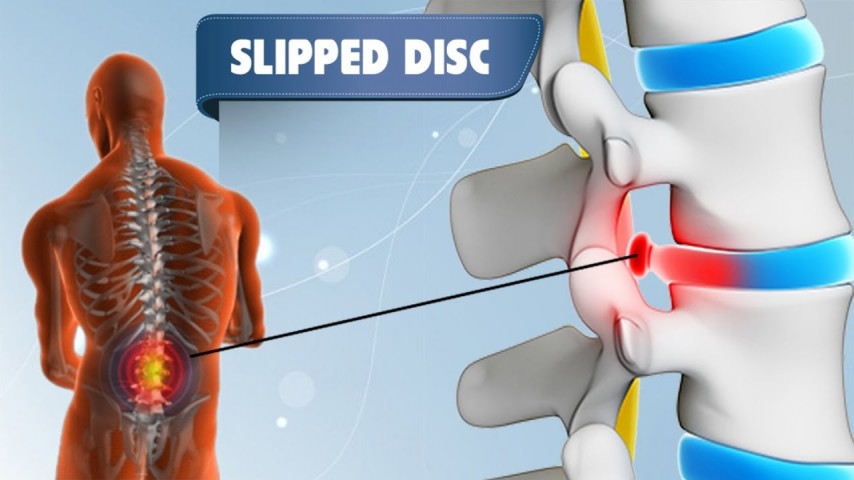 The spine is composed of multiple bones, known as vertebrae, and soft, jelly-like cushions, known as intervertebral discs. As the bones move along the facet joints, located at the back of the vertebrae, the discs help to distribute the load, acting as shock absorbers. In a normal spine, the discs should remain within a confined space between the bones, held in place by fibrous tissues that keep the gel contained. There are also nerves that lie behind the vertebrae and the discs, controlling your arms, legs and bladder function.

A slipped disc, also known as a herniated nucleus pulposus, occurs when the disc material moves (or slips) out of its normally defined space, irritating the surrounding nerves and causing a host of painful symptoms. This tearing of the tissues around the disc can happen when your back is under extra strain, such as when you are carrying a heavy load, or making a sudden movement.


Symptoms of a slipped disc in the neck:
* Pain in the neck, shoulders, and arms
* Numbness in part of the hand
* Radiating pain that arises from the neck and reaches to the fingers of the hands over a period of time.
* Muscle weakness in the hands
* Burning sensation in the affected area
Symptoms of a slipped disc in the back:
* Pain and numbness in the back.
* Pain that arises from the back and radiates to the legs.
* Worsening of pain while standing or sitting
* Pain even while walking for short distances
* Muscle weakness of the back and legs
*Burning sensation in the affected area
How does Ayurveda help treat herniated disc naturally and safely ?
According to Ayurveda, aggravation of vata due to the above causative factors is known as the main cause for slipped disc.

Hence Ayurvedic treatment for slip disc aims at maintaining the normalcy of the vata dosha by various medications and treatment procedures.

At Life Line Ayurvedic Herbal Clinic, we have non surgical options to treat slip discs. 
Click below links to know more :
* Back Pain Ayurvedic Herbal Treatment

* Sciatica Ayurvedic Herbal Treatment

* Cervical Spondylosis Ayurvedic Herbal Treatment

* Kati Basti Therapy

* Greeva Basti Therapy

* More