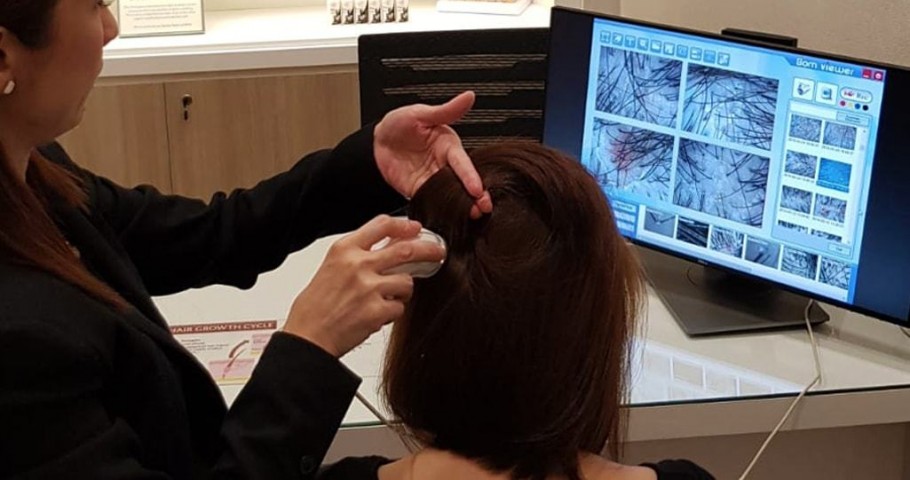 If you are having hair loss, thinning, alopecia, breakage and/or itchy, flaky, or tender scalp, then the best step will be a hair and scalp analysis by one of our qualified 'non-surgical & natural hair loss treatment' Ayurvedic specialist at Life Line Ayurvedic Herbal Clinic. During this physical and digital microscopic hair and scalp analysis, you will be able to see everything the replacement specialist sees on an in-room monitor.

Based on the findings, our Ayurvedic doctors will provide a diagnosis and create a treatment plan that will relieve your hair and scalp concerns. The Ayurvedic Specialist will also be able to determine if you are suffering from internal or external hair loss.

Through our Ayurvedic Herbal Hair Loss Treatment, we have helped people not only in receding hairlines, general thinning and damage due to chemical burns, but also more severe and extensive cases of hair loss such as complete baldness, alopecia areata (patchy hair loss), hereditary hair loss and even chemotherapy-induced hair loss.

We also have an outstanding rate of treating over 85% of all patients suffering from a variety of degenerative hair and scalp conditions.

The causes of such hair loss are numerous and often as complex as our lifestyle, diet, grooming habits, any underlying medical conditions and even our daily stress levels.

The biggest cause of hair loss in both genders, however, is predominantly a sensitivity of the hair follicles to the androgenic hormone dihydrotestosterone (DHT). This is a type of waste product of our metabolism that binds onto the hair follicle, cuts off its blood and nutrient supply and therefore causes it to shrink so that it ceases to grow and falls out as a result.

Other conditions that may contribute to hair loss are scalp problems such as itchiness, redness, dandruff or excess oiliness or dryness. Healthy hair can only grow on a healthy base, so a clear scalp is of utmost importance for the development of new hair.
What we can do at our Natural Herbal Clinic :-
1]. Physical analysis of hair through digital microscope and a thorough examination to assess the root cause of the problem.
2]. Specific Ayurvedic Herbal medicine individualised according to patient is selected to prevent excess hair fall and new hair growth stimulation.
3]. In some cases Panchakarma Detoxification treatment is given to stimulate hair follicles. Along with this a specific hair care regime is given to be followed at home with diet & lifestyle advise. CONTACT NOW TO BOOK CONSULTATION