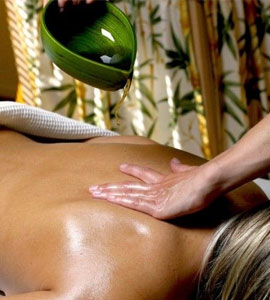 This therapeutic massage is a combination of two classical Ayurvedic treatments, Snehana (oleation ) and Swedana (sudation). The whole body is bathed in the streams of warm herbal oil with simultaneous massage. The warm oil and massage opens the pores and drives the herbal oil deeper into the tissues.
The techniques of the treatment include applying lukewarm oil that are medicated and massaging them for about 45-60 minutes. The oils are being poured on the body by squeezing a cloth soaked in oil from a vessel. The oils used for this treatment are specifically chosen according to your dominant energy body constitution type. The treatment has to be performed for 7-14 days for best results.


Benefits :
Pizhichil relieves body pain and muscles pains.

It has anti aging properties.

This improves blood circulation.

It promotes development of muscles.

This improves skin complexion.

It helps in diabetes, hypertension, effective in asthma and even in tuberculosis in early stages.

This therapy is soothing and relaxing.

This therapy is very rejuvenating.

It alleviates burning sensation in the body.

Indications :
Nervous weakness and nervous disorders.

Rheumatic diseases.

Paralysis, Hemiplegia.

Sexual weakness.

Muscular weakness.