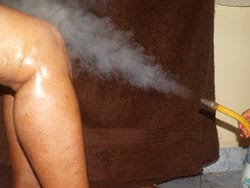 Nadi swedan is a unique form of swedan procedure where sweating is induced by passing steam over the body part by using a special instrument known as nadi swedan yantra.

Procedure :
Nadi swedan session consists in receiving a jet of herbally infused steam to specific areas of the body, after medicated oils are vigorously massaged on the site. This drives the properties of the herbal oils deep into the tissues, stimulating circulation and burning away toxins. The steam is infused with blood moving herbs like eucalyptus, sage, cinnamon, camphor, ginger or calamus to remove stagnation, dispel waste products and counteract the qualities of vata in the muscles and joints.

Benefits :
Brings softness of the body.

Relieves pain.

Relieves oedema.

Reduces the stiffness of the joints and keep them mobile.

Improves the process of blood circulation.

Helps in removing the toxins of the body.

Indication :
Osteoarthritis.

All vata related disorders.

Facial paralysis.

Cough, Asthma.

Sciatica.

Spondylitis .

Back pain .